The Hotel
Rediscover the charme of your childhood holidays in the Vendée
Atlantic Hotel & Spa in Les Sables d'Olonne
The Atlantic Hotel & Spa was built in 1972 by the Blanchard family. It sits proudly on the promenade and was the first hotel right category to be built in Les Sables d'Olonne.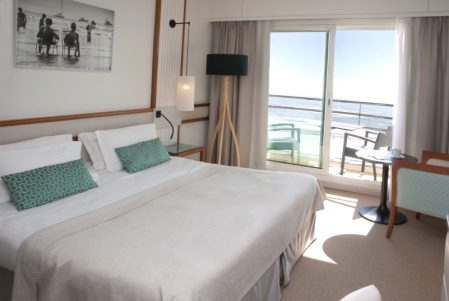 The hotel has 34 rooms, including 15 rooms with a private balcony facing the sea and 3 Superior Rooms situated on the 6th floor with a private terrace facing the sea.
The city of Les Sables d'Olonne is a seaside resort wich has made its reputation based on the beauty of its landscapes, its beaches and surfing spots. Let yourself be seduced on this destination in Vendée, you will not be disapointed !
The Atlantic Hotel & Spa, cosy and welcoming
The hotel has been completely renovated over the last few years to ensure a carefully planned decor with a combination of intimate and friendly surroundings and access to the latest technology. Enjoy the warm swimming pool heated at 29°C and savour the exquisit dishes of the restaurant "Le Sloop".
The Atlantic Hotel & Spa has garnered its success by focusing on the human side of the hotel business : making people feel welcome. This quality of sincerity in all our dealings with guests is one that we constantly strive to maintain.
Everything has been designed to make sure you spend an unforgettable stay with us.